When I make a rig, I like to check it works correctly, that's why I did a "frontal walk cycle" with this character. This animation will be used later.
Cuando realizo un rig, me gusta comprobar que funciona correctamente, por eso hice este ciclo de marcha frontal. Esta animación será utilizada más tarde. 
I decided to re-do the characters of my graduation film and to make their rig, too.
Decidí re-hacer los diseños de mis personajes de mi proyecto final de la escuela y, también, rehacer sus correspondientes rigs.
This is the first character, La Anciana, the Old woman from Cuba. The old version and the new version where I did creation and design.
El primer personaje, La Anciana, una anciana cubana. Aquí tenéis la antigua versión y la nueva. La creación y diseño de personajes corren por mi cuenta.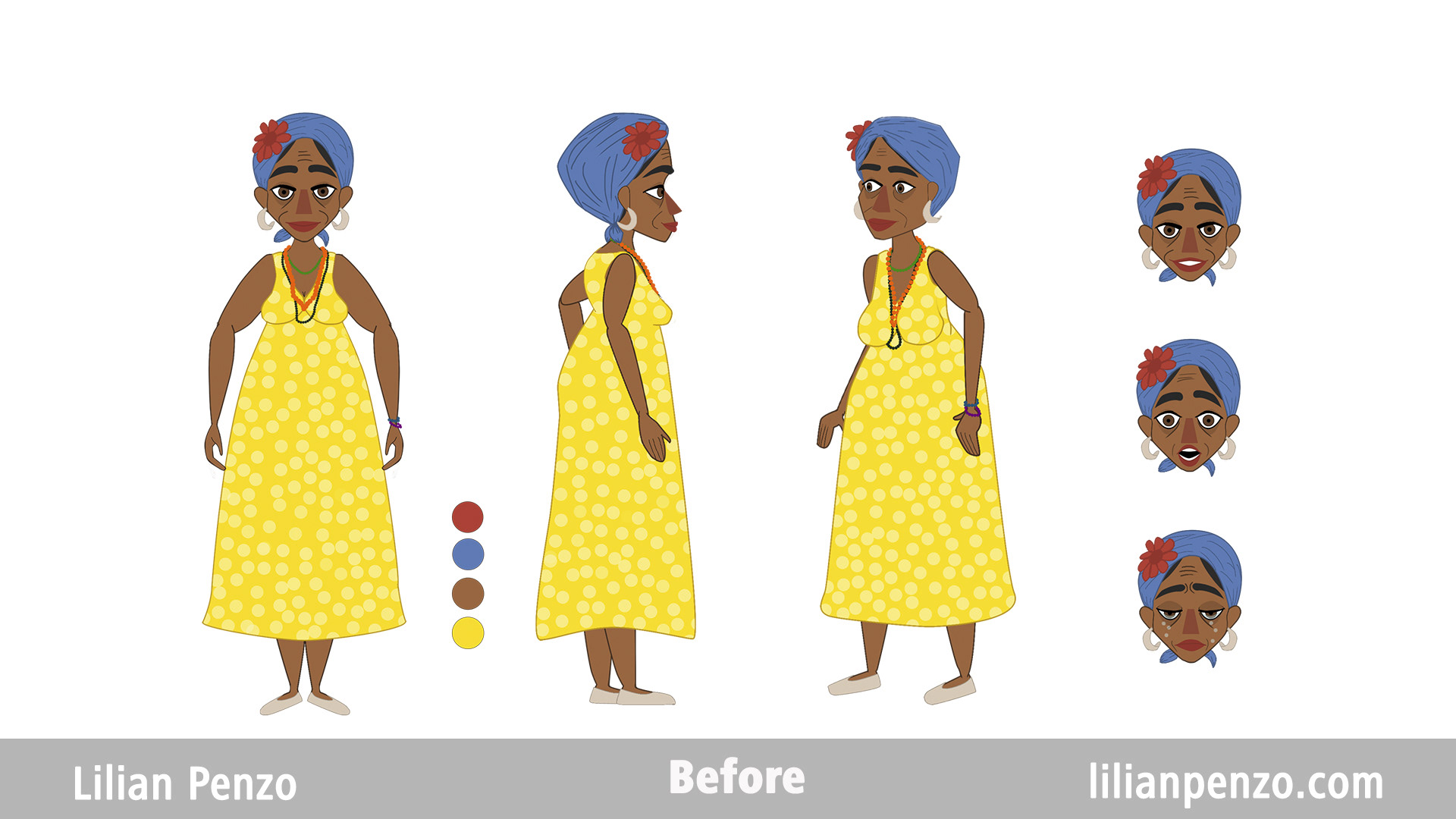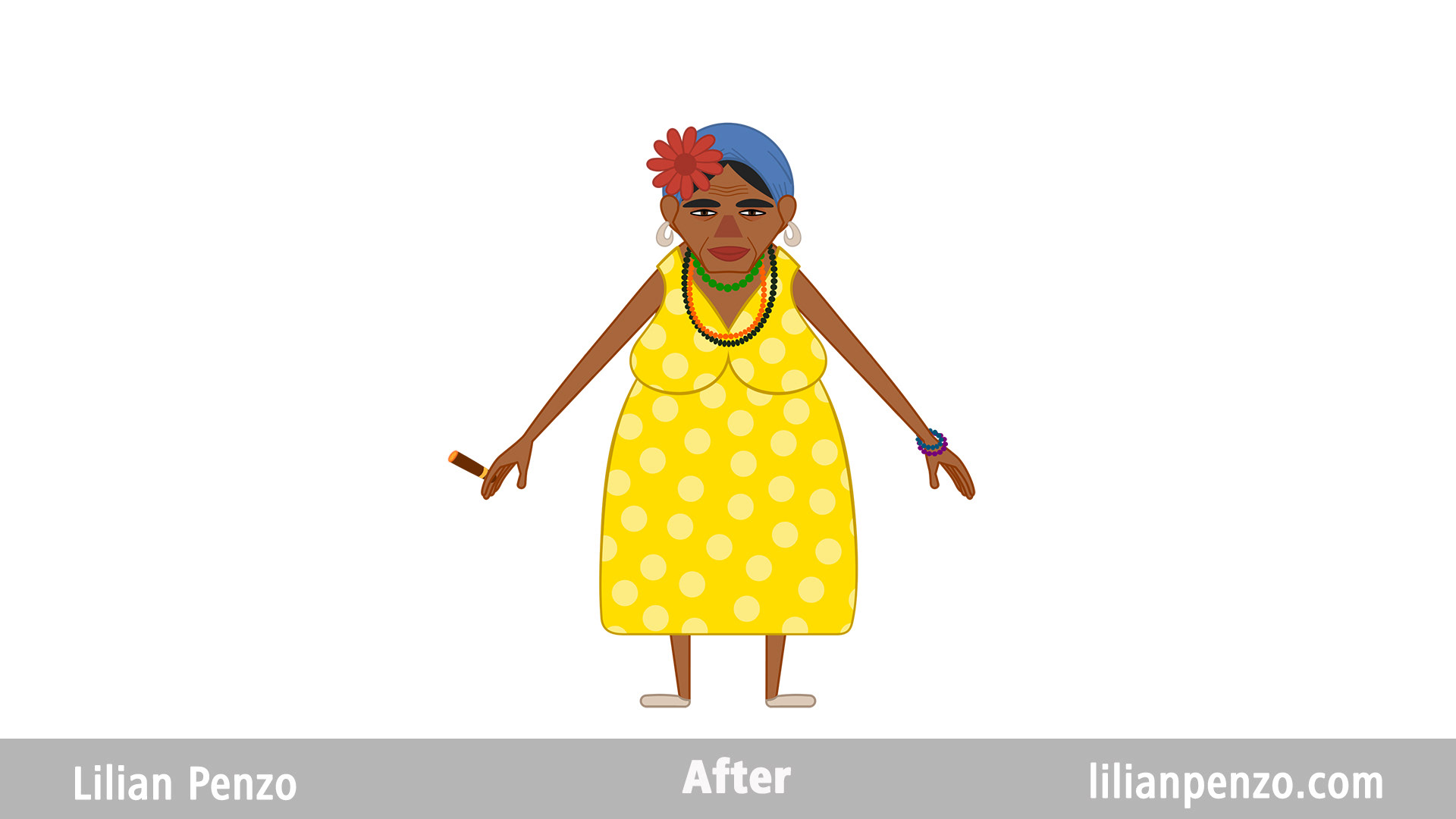 All the elements: necklaces, hands, forearms, are separate.
All the elements are in their logical hierarchy.
Todos los elementos como los collares, las manos, los antebrazos... están separados. 
Todos los elementos respetan una lógica jerarquía.
Using the "patch system" to centre on the area you're interested in like elbows, wrists, knees and not to affect to the whole character.
Mediante un sistema de "auto-patch" me puedo focalizar en una zona concreta como codos, muñecas, rodillas, y que no afecte a todo el dibujo. 
Using the envelope deformers for whole character, except for printed clothes, like the dress, hanky or face wrinkles where I use Free-Deform deformer.
Utilizando deformadores de tipo "envelope" para el personaje entero, a excepción de los motivos del vestido,el pañuelo de la cabeza, las arrugas, donde se utilizo el de tipo "Free-Deform".
make it easier to "handle" the puppet.  
haciendo más facil el manejo del personaje.
I use constraints for the legs and feet. They are connected to a constraint switch node you can activate  whenever you want.
Utilizo los "constraints" para pies y piernas. Están conectados, también, a un "constraint switch" node, haciendo que puedas activarlo o desactivarlo cuando lo necesites. 
Using the Master Controllers for head turns, expressions and eye blinks.
Utilización de los "master controllers" para el giro de la cabeza, las expresiones y el parpadeo. 
 I love to have a good organization in my Node View. I can easily find all my elements sorted by different colours of backdrops, specific colours for animation pegs, effects pegs, drawing nodes where we can draw, etc.
Me gusta tener una buena organización de mi Node View. Fácilmente, puedo encontrar todos mis elementos gracias al uso de diferentes colores en los "backdrops", en los "pegs", en los "drawing nodes", también, donde diferencio dónde poder dibujar o no.